Research & Studies
Understanding Lake Data pdf: http://burnett.uwex.edu
Erosion Prevention & Sediment Control
Annually, the City of Lincoln City and the Devils Lake Water Improvement District sponsor an Erosion Prevention and Sediment Control Workshop. Companies bring their products to share with local contractors and government agencies. Part of the workshop takes participants out to construction sites to observe and study erosion prevention methods in use.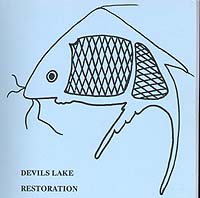 Grass Carp
University of Washington, Dr. Gilbert Pauley - 1986-1989
Washington Cooperative Fishery Research Unit
Devils Lake Contingency Plan for Stocking Grass Carp - Data Base and Learning Tool - This project will serve as a learning base from which intelligent recommendations can be made about any future use of the triploid grass carp (TGC) in northwest waters. At present, there is no data base, all information is extrapolated from other geographic areas, from diploid grass carp, and from laboratory studies.
The Washington Cooperative Fishery Research Unit (WCFRU) used case history evaluations and a modified version of the Illinois Natural History Survey Model (INHS) to estimate the number of fish needed to accomplish the project's objective of eliminating 75% - 80% of the existing macrophytes in Devils Lake. Two exotic species of plants, milfoil and Elodea, comprise a major portion of the lake's biomass and surface area and presently interfere with recreational use of the lake.
The accuracy of the INHS model predictions for this geographic region is unknown, primarily because the nuisance plant species that exist in Devils Lake are untested. Thus, the stocking rate that was chosen from the literature is below the lowest recorded stocking rate that caused eradication of aquatic plants. In addition, the lower boundary of the plant biomass estimate (95% C. I.) in Devils Lake was used to select this stocking rate.
Furthermore, project participants are aware of the risk that the removal of plants by grass carp may trigger extensive, but short term, algal blooms that are undesirable. To avoid any undue reaction to such blooms, all causes of algal blooms must be investigated by representatives of the agency workgroup before any effort to remove grass carp in response to bloom conditions are initiated.
The Oregon Department of Fish and Wildlife (ODFW) bans the possession of triploid grass carp.
The full 110 page report on "Short-term effects of triploid grass carp on the plant community, fish assemblage, and water quality" from the findings of Thomas, Thiesfeld, Bonar, Frodge, and Pauley of the University of Washington, and the contingency plan are available from DLWID. Click here for more information.
Invasive Species
New Zealand Mud Snail
Oregon State University - Michael Liu from the Hatfield Marine Science Center - 2005
The New Zealand Mud Snail is now in Devils Lake. The snail is very small, reproduces asexually and rapidly, covers habitat, eats algae thus competing for food with native species. Michael Liu, an OSU doctoral student and senior aquarist at the HMSC, is researching the snail in Devils Lake.

Oceanography
PADL has coho salmon that migrate from fresh water to salt water
(research on earthquakes and tsunamis, fish diseases, salmon, waves, weather & more)
Hatfield Marine Science Center - Oregon State University
The Hatfield Marine Science Center (HMSC) in Newport is an Oregon State University research center. The Wecoma is one of their research vessels. During SeaFest, tours are offered of the vessel. Exhibits at the Center focus on research. El nino and other weather patterns are studied. Scientists educated at some of the leading universities in the United States give talks about research at the HMSC. Instruments measuring waves and other weather data are located off our Lincoln City coast. The HMSC website is www.hmsc.orst.edu.

Scripps Institution of Oceanography - University of California at San Diego
The research vessel, the Roger Revelle, from Scripps Institution of Oceanography in San Diego has traveled to Newport to conduct research off the Oregon coast. Read the daily captain's report and follow the ship's travels to Oregon and other sites of research. Their website is www.sio.ucsd.edu.

Paleolimnology
Joe Eilers took core samples from the bottom of the lake about seven years ago to analyze the rate of increase of sedimentation. He also calculated the lake's depth.
May 2005 - Bathymetry and Paleolimnology Study
Joe Eilers updated his study. He took core sediment samples and analyzed the content. With new techniques he can determine certain types of algae that were in the lake historically, and their fluctuation over a historical record. To some degree that indicates how eutrophic the lake was. A eutrophic lake has an overabundance of nutrients, which potentially increase aquatic plant growth. Copies of the report are available from the Devils Lake Water Improvement District.
The additional diatom data show a conversion of diatoms that are less reliant on macrophytes and tend to be more planktonic.
The akinete data show a substantial increase in the role of cyanobacteria in Devils Lake.
The timing of the changes in both diatoms and cyanobacteria is consistent with the loss of macrophytes caused by the introduction of the grass carp (last grass carp introduced in 1994).
Conclusions
New bathymetric map provides high resolution information for lake and watershed management.
The updated sediment accumulation rates show continued increase in sediment accumulation (SAR) for lake.
The carbon and nitrogen data show continued increase in nutrient enrichment of sediment.
Salmon
Coho salmon that spawn in the tributaries of Devils Lake are monitored by the Oregon Department of Fish and Wildlife. A green box to catch salmon smolt as they migrate out to the ocean from Devils Lake is located east of the Hwy 101 bridge over the D River. Researchers have snorkeled in Rock Creek pools to count salmon. Studies are being planned to determine which areas of the lake are being utilized as salmon habitat. Click here for more information.
Vegetation
Portland State University (PSU) research - 1995-1996
Orange grass carp exclosures
The Devils Lake Water Improvement District (DLWID) contracted with researchers from Portland State University during 1995-1996 to conduct a revegetation and water quality study. This revegetation study was conducted to determine whether a revegetated lakebed is more resistant to invasion and establishment of Brazilian elodea than an unvegetated lake bed. Grass carp exclosures were established in the northwest arm of the lake in May 1995.



Four planting treatments were applied to the exclosures:
1) Sago pondweed (Potamogeton pectinatus)
2) Water celery (Vallisneria Americana)
3) Sago pondweed plus water celery, and
4) a control with no planting

The revegetation study indicated that the lake bed will become quickly revegetated if grass carp are removed from the lake. The Devils Lake Water Improvement District continues to monitor the orange cages in the lake.

Portland State University (PSU) graduate research, Melissa Waggy - 2000-2001 - download pdf
What kinds of native plants still survive in Devils Lake?
Melissa Waggy, a graduate student at Portland State University, undertook a plant seed bank study the summer of 2000 on Devils Lake. Waggy looked at the potential for revegetation of aquatic plants from seeds contained in the lake sediments. The research project is a collaboration of PSU and the Devils Lake Water Improvement District. The program, which began in May, is one of many being conducted around the state by PSU, thanks to funding granted the University by the Oregon Watershed Enhancement Board (OWEB). Mark Sytsma, PSU professor says the ultimate aim is to support the development of the state's first comprehensive plan for managing aquatic invasive species. The grass carp were first brought in to eradicate the Eurasian water milfoil, an invasive plant which can crowd out native plants.
Waggy established a number of sites throughout the lake. At each site, she placed small cages to prevent grazing by the plant-eating carp. Most cages were submersed on the lake bottom. The cages were checked through the summer to assess the types of plants and the growth. In addition to the cages, a number of lake sediment core samples were taken to PSU's laboratory to determine what plants will grow from viable seeds contained in the sediments. This research should help determine what type of vegetation would return if the grass carp numbers were reduced.
PADL members helped by storing equipment, and offering their lakefront property as lake access for test sites. Ms. Waggy spoke at PADL's 2000 annual meeting. Ms. Waggy completed her masters degree, using her research on Devils Lake as her master's thesis.
Results from the study suggests the following: the lake's seed bank remains viable, native plant diversity is low, there continues to be a threat of re-invasion by noxious plants, and the distribution of plants around the lake will depend on a gradient of growing conditions within the lake.

Beetles and purple loosestrife
Beetles were brought in as a biological control against purple loosestrife, an invasive species. Click here for more information. An article about the use of beetles in Washington State is online at www.usgs.gov/invasive_species/plw/loosestrife.html.

Water Quality
Water Quality in Devils lake is poor and it is classified as eutrophic. Because of its proximity to the ocean the water shows the influence of sea spray in the slightly elevated concentrations of sodium and chloride.

McHugh, 1972
Continued enrichment of the lake over the years has led to plankton blooms during summer and to the growth of dense beds of both submerged and emergent aquatic plants which die back in the fall, sink to the bottom, and accumulate to form peat. According to McHugh, if this enrichment continues, large portions of the lake could be turned into marsh within the next 50 years.

McHugh, 1979
McHugh included the lake in his study of highly eutrophic lakes in Oregon, and his observations are summarized as follows: Devils Lake has been a problem area for many years. Until 1970 it had the dubious distinction of being the worst polluted lake in the state, as the south end was frequently contaminated by a poorly functioning sewage treatment plant, a situation which has since been corrected. Repeated surveys have found areas with high nutrient levels and coliform counts. Septic systems from homes in the unsewered areas or still functioning in the sewered areas contribute to the problem.

Shoaling
Another problem with the lake has been rapid shoaling, caused by siltation and heavy macrophyte growth. Part of the silt has originated from areas in which the forest and shrub ground cover has been disturbed, as in road building and house construction. Some doubtless enters the lake through inflowing streams. Silting tends to be periodic, following heavy rains. During the 1964 floods, a shallow bay off the lake received approximately three feet of silt in two days.

Kramer, Chin and Mayo, 1983
Local rehabilitation of the lake led to an EPA-funded study to:
1) Identify and quantify the magnitude of the pollution sources and determine their impacts on the lake,
2) analyze and rank alternative control strategies to correct the pollution problems defined in the sampling and monitoring program, and
3) develop a rehabilitation program that is viable, environmentally acceptable and for which funding can be received for implementation through some local, state, federal, and/or private source.
Since EPA's Phase II implementation funding has been reduced, Lincoln City, with strong local homeowner support, is pursuing formation of a service district with taxing authority that could implement an annual lake management program.

Water Quality studies information from Atlas of Oregon Lakes

The Devils Lake Water Improvement District continues to monitor and study water quality.

Misc.
Several sites around the lake are monitored for water quality. Also the surrounding streams are monitored. Several PADL members around the lake have monitored water quality. A water quality lab has been set up at Neskowin Valley School. Click here for more information.

Macroinvertebrates in streams have been studied as water quality indicators. Click here for more information.

In the past, infrared dyes have been used to test for pollutants from septic tanks and drainfields around the lake.
The Oregon Natural Heritage Information Center (ORNHIC) is part of the Oregon State University Institute for Natural Resources, in the Research Office of OSU. Their mission is to identify the plant, animal, and ecological community resources of Oregon. As part of the Natural Heritage Network and NatureServe, the Oregon Natural Heritage Information Center contributes to an understanding of global biodiversity and provides tools for managers and the public to better protect our vanishing species and communities. oregonstate.edu/ornhic

Aquatic Ecosystem Research Facility with the Army Corps of Engineers: http://el.erdc.usace.army.mil/facility/laerf.html

Photo: Grass Carp exclosure (R. Erickson)

site map
Copyright © 2003-2011 Preservation Association of Devils Lake (PADL).
All rights reserved.


P.O. Box 36
Lincoln City, OR 97367
PADLsteward@wcn.net