Water Quality

Within the Devils Lake watershed, water can flow from the temperate rain forest of the Siuslaw National Forest, past the banks of Rock Creek down to Devils Lake, through the D River and out to the Pacific Ocean.

If you own property, please click here for information on erosion, runoff, yards, etc.
If you boat or fish, please click here for information about invasive species, etc.

Algal blooms: 8/08 - Devils Lake Water Improvement District www.dlwid.org has purchased equipment to begin testing for cyanobacteria toxins. Caution signs will be posted when there is a health concern.

Algae (Cyanobacteria)

Click here for information about algae.
• North American Lake Management Society blue-green algae page - http://www.nalms.org/nalmsnew/nalms.aspx?subcatid=65&Sid=3
• 8/10/06 - Per PADL's request DLWID posted the Oregon Department of Human Services' blue-green algae health concerns information sheet at: Regatta, Holmes, Campground, Sand Point & Brown Bear.
Please read the state's blue-green algae health concerns download pdf.
State's blue-green algae advisories
www.oregon.gov/DHS/ph/envtox
• DLWID contacted Lake Oswego and received pictures of a boat built to skim the water for debris, but not algae. An aquatic weed harvester is used. Alum is used to help deter algae.

Blue-green algae deterrent methods considered - SolarBee explored
4/6/06 - Joe Eilers spoke about deterring the growth of blue-green algae (cyanobacteria) at the DLWD meeting. Ray Smith, Regional Manager of SolarBee, a Solar-Powered Circulator also spoke. see www.solarbee.com

CYANO-WATCH: The Devils Lake Water Improvement District is embarking on its fourth year of the CYANO-WATCH program. A three pronged approach, the Cyano-Watch program is designed to educate about (GREEN), caution (YELLOW) or restrict (RED) the use of Devils Lake. See the sample flyers that are posted during Phases I, II, and III of the program. This program has been developed based on Oregon DHS: Public Health Advisory Guidance for Toxigenic Cyanobacteria in Recreational Waters.
This year DLWID will be conducting routine toxicity monitoring in conjunction with the identification and enumeration done in years past. The season when cyanobacteria flourish is generally July - September, so lake users should be aware of precautions to be taken when bloom conditions exist. Always watch and stay clear of cyanoblooms or scummy water, keeping both children and pets safe.

It is important to note though that cyanotoxins produced by cyanobacteria can remain in the water for up to two (2) weeks after a bloom has vanished.

See the Devils Lake Water Improvement District's Water Quality page http://dlwid.org

• 12/06 - Sonic Algae Control, Ultrasound for Devils Lake? - www.algaecontrol.us



- E. coli themselves with rare exceptions are generally harmless, but they are correlated with fecal inputs to the water which may contain pathogenic agents. E. coli then are used as an indicator organism for fecal inputs.
- Sources of E. coli include humans, domestic animals (pets), wildlife and livestock. Most warm blooded animals!
- Please note that water quality can change quickly and is highly impacted by storm events (via urban and agricultural runoff). After a storm event, it is generally best to wait 48 hours before swimming near where runoff meets receiving waters.
- For more information on E. coli and other water quality standards please visit:
www.deq.state.or.us/WQ/standards/standards.htm
www.epa.gov/waterscience/criteria/


E. coli bacteria testing: Pathogen Detection Systems has developed a fully automated Desktop Testing Unit (DTU) for detecting E.Coli and total coliform bacteria. See http://pathogendetect.com/

The Bacteria (E. coli) Summary is courtesy of the Devils Lake Water Improvement District. download 2007 Summary pdf Testing is done weekly in the summer months. Data is for information only, and does not represent an advisory. Color coded risk levels of Red, Yellow or Green are based on EPA's and Oregon's guidelines for swimming waters. Samples are analyzed the same day by the Neskowin Valley Testing Center. Data are posted at the D River Park, the State Campground, Regatta Grounds, Holmes Road Park, Sand Point and East Devils Lake State Park.

2009 - PLEASE NOTE: The Devils Lake Water Improvement District conducts the weekly bacterial monitoring only in the high recreational use months of the late spring, summer and early fall, generally mid April through mid September. If you should have any questions please do not hesitate to call or write DLWID.

September 15, 2009
Quick Update: High E. coli numbers continue to be found in Thompson Creek. All other sample sites were in the low risk range. Please note that this summer's E.coli monitoring program will conclude next week. A summary of the year will be available at the individual sites and online. E. coli monitoring will begin again in Mid-May, 2010.

Cyano-Watch: Toxic Cyanobacteria (fka Blue Green Algae) continue to appear to be waning; most recent toxicity tests (September 2, 2009) were all below the state's threshold for Microcystin. Other toxins such as Anatoxin may exist and thus a two week waiting period is recommended after the cyanobacteria have died back to allow for the photo-degradation of the toxins they produce.

However it is important to note that cyanobacteria are living organisms and can repopulate given the right conditions. Environments that favor cyanobacteria are warm, stagnant waters. The recent dog deaths in Southern Oregon are a testament to the toxicity of the toxins cyanobacteria produce, and thus caution is always warranted. Cyanobacteria drift around the lake with the currents and wave energy, so water quality can change for the better or the worse rapidly. For the latest results visit our website. At all times however you can easily help keep yourself, family and pets safe by looking before you leap. Keep yourself informed. Read the Green Cyanobacteria Info Sheet for more information. Always use caution when recreating on and in Devils Lake. The full Cyano-Watch Update sent out most recently can be viewed on our website, the text of which is posted below.

Most Recent Cyano-Watch: "2009-09-09: Water Quality Improved, advisory to be completely lifted in one week if trend continues.
The Devils Lake Water Improvement District tested 6 shoreline and 6 mid lake sample sites today and analyzed all the samples for Microcystin, a known liver toxin. Toxicity values at all sample sites were below Oregon's Recreational Standard of 8ppb. Water quality can change rapidly, so always look before you leap, keeping both children and pets safe. Even during a bloom as we have seen in the last six weeks, Oregon DHS encourages people to visit Devils Lake enjoying activities such as camping, hiking, biking, picnicking, catch-and-release fishing and bird watching as long as precautions against water contact are observed. Boating is also deemed safe as long as speeds do not create excessive water spray, which could lead to inhalation risk. DHS recommends that people who choose to eat fish from waters where cyanobacteria blooms are present should remove all fat, skin and organs before cooking, because toxins are more likely to collect in these tissues. Never use the lake water for drinking or cooking as toxins present are not destroyed by such heat. "

Take Action: Do you have a septic tank on your property? Do you know where it is? When was the last time you had it inspected? For a septic tank to operate properly, some level of maintenance is often required. Have your system inspected regularly to insure it is protecting the lake as well as you would.

Want to help reduce cyanobacteria? Vegetate your shoreline. Replanting shorelines with native grasses, shrubs and trees help to absorb nutrients that would otherwise enter the lake which are food for cyanobacteria. Please help spread the word that "Lawns aren't for lakes". Our watershed a mere 100 years ago supported a diverse landscape with 200' Sitka Spruce trees lining much of the shoreline. These large trees grew without the need for fertilizers or pesticides. Please feel free to forward on the attached signage or use it to make your own educational signs for the neighborhood. We can make higher resolution images available upon request.

General Announcement: The Devils Lake Water Improvement District is continuing its summer time, water quality monitoring program. Part of that program is the E. coli monitoring we do at area fresh water beaches, boat launches and tributaries. Attached is the latest posting for the program which runs through September. The posting is meant to provide weekly updated information to lake users, but as water quality can change rapidly, it only represents the instant at which it was sampled. E. coli often enter the lake as runoff from the landscape during rain events. Sources include failed or marginally functioning septic tanks, pets, wild animals, birds, and farm animals. Thus as a precaution, it is advised to avoid water contact within 48 hours of a storm, or where storm water is discharging. This is the case for any body of water and is a sensible precaution for ocean beaches as well.

The other part of the water quality monitoring program is the CYANO-WATCH program, which seeks to identify toxic Cyanobacteria (formerly known as (f.k.a.) blue-green algae). Generally this is a late summer phenomena, but recent samples confirmed that some cyanobacteria are already present in the lake at low concentrations. This could change rapidly. Cyanobacteria are photosynthetic organisms and reproduce quickly. As a by-product of their life-cycle they can, and often do, produce toxins. These toxins can be extremely dangerous and lake users should take a common-sense approach anytime they recreate on or in Devils Lake. An information sheet about cyanobacteria has been provided through this link Cyanobacteria Info Sheet. More information is available through our website on the Water Quality Page. Should you have any questions please do not hesitate to call or email us.

Sincerely,
Paul Robertson, Lake Manager
Devils Lake Water Improvement District
www.DLWID.org
• P: (541) 994-5330
• F: (541) 994-6040
• E: paul@DLWID.org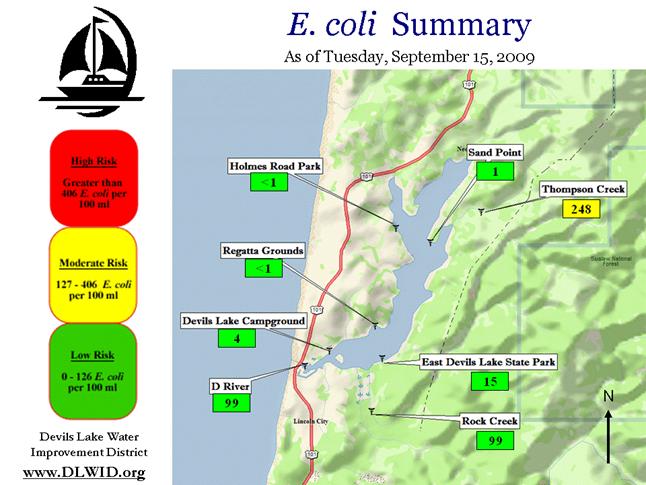 Date

Dissolved
Oxygen mg/l
Temperature
C/F
pH
Conductivity
uS
Turbidity
NTU
5 June
2007
8.24
18.8 C / 66 F
6.59
110
2.0
High levels of E. coli may be seen if sampling coincides with a large rain event which can often draw material into the lake. As a reminder, Please Do Not Feed the Birds, particularly Sea Gulls and Ducks as their feces pose a health risk, and be sure to Clean Up after Pets! Bacteria testing is inherently variable and caution should be exhibited particularly after rain events.
The D River, west of the bridge in the flowing water (lotic water) to compare to the sample site on the east side of the bridge that they post each week in the more stagnant (lentic water). The D river is highly influenced by the presence of E coli in the waters sitting on the east side of the bridge. This is no surprise as DLWID has seen a correlation between the state's saltwater testing at the D River Wayside and the testing DLWID has done on the same day on the east side of the bridge at the D River Park.
What does DLWID recommend based on these data? DLWID established a posting site (bottom of the stairs for the summer months) at the D River Wayside using the same map displayed at all the other sites around the watershed. They have distinct blue metal sign boards into which they place the summary maps, highlighting the spot at which the posting is placed. For those that haven't seen the map Paul Robertson, DLWID manager, has included a sample (Bacteria Summary --- You are Here.PDF). The state as Robertson understands is sampling once every two weeks at the D River Wayside and does a good job of doing follow up sampling if the readings are high. DLWID does weekly sampling and posts the data each week leaving the data set up for viewing throughout the week. We can together create more awareness of the ongoing changes and hazards associated with high levels of E coli by providing additional information. DLWID welcomes discussion and review of this and any other data set relating to water quality.
Clean Water Act
The Clean Water Act was enacted in 1972 through the federal Environmental Protection Agency (EPA). To view the entire Clean Water Act text go to the EPA website at www.epa.gov/watertrain/cwa/. One of the components is the Clean Lakes Program.
Clean Lakes Program
The Clean Lakes Program of the federal Environmental Protection Agency (EPA) used to offer financial assistance to states for lake restoration or management projects. For information about The Clean Lakes Program see www.epa.gov/owow/lakes/cllkspgm.html. The restoration and maintenance of Devils Lake is a Clean Lakes project in cooperation with the Oregon Department of Environmental Quality (DEQ) and the Devils Lake Water Improvement District (DLWID). The Lincoln County environmental manager (sanitarian) and his staff as the agents for the Oregon Department of Environmental Quality (DEQ) are responsible to protect the water quality in Oregon under the federal Clean Water Act. Funding for Phase I Feasibility and Phase II Restoration came from the Environmental Protection Agency (EPA). Since then local property taxpayers have paid for the Devils Lake projects. Volunteers have also contributed greatly to the work of the district. PADL members have volunteered to collect lake water samples.
EPA water websites include: www.epa.gov/waterscience/ and www.epa.gov/water/ and www.epa.gov/owow/lakes/

Grey Water Discharge
Do not dump water from hot tubs (http://access.wa.gov/) and laundry into the lake. Report violations to the following numbers: Emergency Response (Nationwide) 1 800-452-0311, Oregon Only 503-378-6377. Also, notify DLWID at 541-994-5330.

National Pollutant Discharge Elimination System (NPDES): www.epa.gov/npdes.htm

Nonpoint Source Pollution
For information about polluted runoff (nonpoint source pollution) see www.epa.gov/owow/nps/

Toxic Release Inventory (TRI)
The EPA's TRI is another means of determining relative amounts of pollutant-loading from industrial point sources. Manufacturers are required to report to federal and state government agencies the amounts of more than 300 chemicals they release to the environment. Pollutants released directly to the air, water or land, or those that are moved to off-site treatment and disposal sites, must be recorded and reported. An inventory of these contaminants, their sources and where they were released is compiled and published annually. www.epa.gov/tri/ and www.seagrant.wisc.edu

Total Maximum Daily Load (TMDL)
Under the Clean Lakes Program the state is looking at Total Maximum Daily Load (TMDL). Devils Lake is scheduled for study in 2007.

Oregon State 303 (d) list
Devils Lake is on the state's 303 (d) list for impaired water bodies for pH, and chlorophyl a during the summer, and bacteria in Thompson Creek annually. The goal is to have Devils Lake removed from the 303 (d) list.

Water Quality Monitoring by the Devils Lake Water Improvement District (DLWID)
The Devils Lake Water Quality summary is courtesy of the Devils Lake Water Improvement District and has not been updated for posting at this time -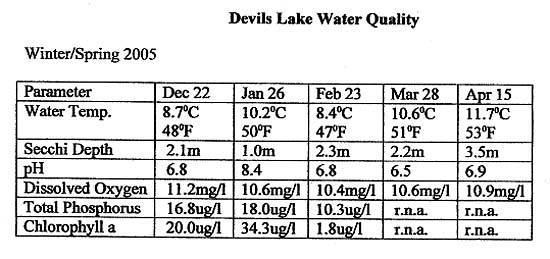 Water temperatures obtained at 1-meter (m) depth
pH: the amount of basicity or acidity of a solution, in this case, water pH readings between 6.5 and 8.5 is Oregon's Department of Environmental Quality water quality standards.
Secchi Depth: an eight inch diameter disk painted black and white used to measure light transparency (clarity) in lakes. A measurement of less than 2m (<2m) is considered poor and eutrophic.
Total phosphorus: A nutrient that stimulates aquatic plant growth. A concentration of greater than 20 ug/l (>20ug/l) is considered eutrophic.
Chlorophyll: Green pigments of plants. Chlorophyll a is an estimate of algal density. Levels >10ug/l indicates an algal bloom and is considered eutrophic. DEQ standard is 15ug/l
Eutrophic: waters with an overabundance of nutrients and sediments hence a rich organic production.
Algae: Single or multi-celled, non-vascular plants containing chlorophyll. Algae form the base of the food chain in aquatic environments.
oC: degrees Centigrade
oF: degrees Fahrenheit
m: meters
r.n.a.: results not available
ug/l: micrograms per liter or parts per billion (ppb)
Secchi Disk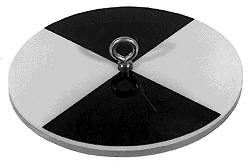 Secchi disks are round, 8 inch diameter, black and white disks that are lowered into the water from the surface. Clarity is gauged by how far down the disks go into the water before disappearing. Higher Secchi readings mean more rope was let out before the disk disappeared from sight and indicates clearer water. Lower readings indicate turbid or colored water. Clear water lets light penetrate more deeply into the lake than does murky water. This light allows photosynthesis to occur and oxygen to be produced. The rule of thumb is that light can penetrate to a depth of about 2 - 3 times the Secchi disk depth.
Clarity is affected by algae, soil particles, and other materials suspended in the water. However, Secchi disk depth is primarily used as an indicator of algal abundance and general lake productivity. Although it is only an indicator, Secchi disk depth is the simplest and one of the most effective tools for estimating a lake's productivity. www.waterontheweb.org/under/waterquality/turbidity.html and www.mlswa.org/secchi.htm
The annual Great North American Secchi Dip-In is held the end of June to the first part of July. The purpose is to assess the transparency of volunteer-monitored lakes in the United States and Canada. One of the goals is to increase the number and interest of volunteers in environmental monitoring. For more information see dipin.Kent.edu.
Trophic State Index (TSI)
Measurements are taken for phosphorous, chlorophyll a, and secchi depth. The data is used to calculate the Trophic State Index (TSI). There are three classifications for water bodies. The Eutrophic classification is not desirable. Eutrophic implies an overabundance of nutrients and sediment. An index over 50 classifies a lake as eutrophic. Devils Lake has had a TSI of over 50.
Trophic State Index (TSI)
Summer Values (June - Sept)
Year

(TP) Total
Phosphorous (ug/L)

Chlorophyll a
(mg/m3)

Secchi
depth (m)

TSI

1981

34

2.5

1.81

48.7

1982

39

23.9

1.55

57.5

1986

29

24.2

1.23

57.2

1987

25

22.2

2.26

53.3

1991

72

78.4

1.07

66.1

1995

26.7

10.1

2

51.6

1996

22.2

15.1

2.5

51
Water Quality Lab at Neskowin Valley School
The Devils Lake Water Improvement District is working with several organizations including the Surfrider Foundation, Salmon-Drift Creek Watershed Council, Nestucca-Neskowin Watersheds Council, and others, to establish a water testing facility at Neskowin Valley School. Members of the Preservation Association of Devils Lake have volunteered to collect water samples from the lake to be tested at the lab.

Macroinvertebrates as Water Quality Indicators
The Watersheds Council and the Devils Lake Water Improvement District have sampled lake tributaries for the presence of macroinvertebrates. Certain species are sensitive to the quality of the water. Click here for more information about macroinvertebrates.
Algal Blooms
Blue-green algal blooms are seen on Devils Lake at various times of the year. There are no current state or federal requirements for monitoring blue green algae (Microcystis). Other lakes in Oregon have been closed because of toxic algal blooms. Avoid swimming in the lake during algal blooms. Keep pets away from the lake during algal bloom. Report algal blooms to the Devils Lake Water Improvement District, 541-994-5330. Click for more information about algae.

E. coli (Escherichia coli) Bacteria
In the past, advisories have been posted at the D River for E. coli. This is a state program, funded by a federal grant. The county's role is to place or remove the posting upon notice from the state. A posting for E. coli at the D River makes the TV and newspapers in Portland and elsewhere, alarming our tourist-based economy.
What is E. coli and where does it come from?
E. coli is a type of fecal coliform bacteria commonly found in the intestines of animals and humans. E. coli is short for Escherichia coli. The presence of E. coli in water is a strong indication of recent sewage or animal waste contamination. Sewage may contain many types of disease-causing organisms.
What are fecal coliforms?
Fecal coliforms are bacteria that are associated with human or animal wastes. They usually live in human or animal intestinal tracts.
How does E. coli or other fecal coliforms get in the water?
E. coli comes from human and animal wastes. During rainfalls, snow melts, or other types of precipitation, E. coli may be washed into creeks, rivers, streams, lakes, or groundwater.
DNA testing to determine the source of bacteria can be expensive. Tests are improving to trace the source.
See www.epa.gov/safewater/ecoli.html

E. coli bacteria posting from the Devils Lake Water Improvement District (as of September 11, 2006) - download Word file and/or download Excel file
• The Devils Lake Water Improvement District conducts weekly tests of these waters during the summer for E. coli - an indicator of pathogenic or disease causing organisms.
• The data are provided for your information only and do not indicate a closure or an advisory.
• The State of Oregon's threshold for swimming waters is an average of 126 E. coli per 100 ml over a 30 day period with no single sample greater than 406 E. coli per 100 ml
The chart below is from 2006, see above for latest report from DLWID.
E. coli bacteria posting from the Devils Lake Water Improvement District
2006
Date

Devils
Lake
Camp-
ground

Regatta
Grounds

Holmes
Road
Park

Sand
Point

Thompson
Creek

Brown
Bear

Rock
Creek

D
River


4/4/06

2

66

<1

<1

166

1

34

4/11/06

2

613

1

10

261

7

24

10

4/18/06

3

26

9

30

99

11

1

365

4/24/06

2

50

4

1

345

1

8

5/2/06

2

172

2

59

488

1

2

43

5/9/06

9

29

2

<1

387

20

55

5/16/06

3

1120

<1

52

488

<1

5

28

5/23/06

2

64

5

49

1200

6

24

34

5/30/06

<1

1986

248

56

>2419

69

27

345

6/6/06

2

365

93

3

194

13

6/13/06

2

435

1

72

687

3

71

112

6/20/06

1

206

9

4

225

25

3

6/26/06

1

517

3

35

387

1

28

7/3/06

2

517

<1

31

>2419

19

207

7/10/06

2

60

56

12

>2419

6

488

7/17/06

1.7411

341.893

5.38685

19.7019

839.018

17.9233

61

96.3783

7/24/06

4

1414

3

57

816

649

61

980

7/31/06

2

65

14

10

816

45

51

93

8/7/06

3

16

1

83

1553

20

109

8/14/06

7

272

7

3

152

7

260

8/21/06

2

23

11

6

88

16

194

8/28/06

5

6

41

9

548

26

260

9/4/06

3

< 1

30

12

62

7

613

9/11/06

7

1

< 1

1

147

4

108

Summer
weekly
testing
ends

D River and Beach water quality and advisories for bacteria levels
When are advisories issued? When test results indicate that bacteria levels are above the standard (158 cfu/100ml marine water), an advisory will be issued.
When are advisories lifted? When test results indicate that bacteria levels are below the standard (158 cfu/100ml marine water), the advisory will be lifted.
ENTEROCOCCUS
The Oregon Beach Monitoring Program tests marine waters for the bacterium enterococcus, which is an indicator of the presence of other illness-causing organisms. Enterococcus has been shown to have a greater correlation in marine waters with swimming-associated illnesses than other bacterial organisms. Enterococcus is present in human and animal waste and can enter marine waters from a variety of sources such as streams and creeks, storm water runoff, animal and seabird waste, failing septic systems, sewage treatment plant spills, or boating waste. They are robust microbes able to tolerate relatively high salt and acid concentrations. They also seem to be able to with stand low levels of detergents, explaining why inadequate cleaning procedures can promote Enterococcus infections.
An Enterococcus infection can cause complicated abdominal infections, skin and skin structure infections, urinary tract infections and infections of the blood stream. These infections can be difficult to treat, particularly in cases where the strain involved has developed resistance to several antibiotics Infection can be life threatening in such instances, especially if the patient is already immuno-deficient.
In the past, advisories have been posted for the D River.
See www.oregon.gov/DHS/ph/beaches/status.shtml
See www.coastalatlas.net/learn/topics/waterquality/beach/
See www.earth911.org/waterquality/defaultIMS.asp?cluster=41

Environmentally friendly pets
An article in the National Wildlife Federation magazine's October/November 2004 issue by Heidi Ridgley states, "According to a 1999 Vanderbilt University study, dog feces are a major cause of water pollution in urban and suburban areas, particularly following periods of heavy rain. The runoff taints streams and rivers, robbing them of oxygen and killing aquatic life. The researchers originally suspected that leaky septic systems and sewage pipes accounted for unexpectedly high bacterial levels in Nashville, Tennessee streams and tributaries. 'What they found instead was that in neighborhoods with no sewer problems, the most common fingerprint is that of dogs,' says Edward Thackston, an environmental engineer." The article encourages pet owners to keep their cats indoors, bag their kitty litter, pick up pet poop, and read the labels on flea and tick repellent.
Pet waste disposal stations are at the Tanger Outlet Mall and D River. West Devils Lake State Park is working to control pet waste. Property owners around the lake and in the watershed are encouraged to pick up after their pets.

Wildlife feeding
Do not feed the lake geese or fish, including grass carp. Their waste contributes to poor water quality.
LINKS
American Water Works Association: The American Water Works Association (AWWA) is an international nonprofit scientific and educational society dedicated to the improvement of water quality and supply. www.awwa.org/

Aquatech – Purely Water Purification: As an original equipment manufacturer of industrial water and wastewater treatment systems, and a supplier of water management services, Aquatech is dedicated to treating, restoring and purifying water the world over. With facilities in 45 countries, and more than 700 installations, we're known for our innovative responses to desalination and water re-use challenges. Responses that embrace pretreatment, ion exchange, membrane processes, wastewater recycling, zero liquid discharge and evaporative processes. www.aquatech.com/
Stevens Water: Stevens, with its Tyco / Greenspan strategic alliance, offers a product line of water quality analyzers, water quality multi-parameter sensors, and water quality single parameter sensor, all designed for long-term, unattended monitoring and analysis. www.stevenswater.com/
Rapid Microbiology:www.rapidmicrobiology.com/
University of Wisconson Water Monitoring: http://watermonitoring.uwex.edu/
National Water Quality: www.usawaterquality.org/

Water Environment Federation: Formed in 1928, the Water Environment Federation (WEF) is a not-for-profit technical and educational organization with 32,000 individual members and 80 affiliated Member Associations representing an additional 50,000 water quality professionals throughout the world. WEF and its member associations proudly work to achieve our mission of preserving and enhancing the global water environment. http://www.wef.org/Home
Pacific NW Clean Water Assocation: A WEF affiliated member association. www.pncwa.org/
Environmental Protection Agency (EPA): Rapid Toxicity Testing Systems: http://www.epa.gov/etv/verifications/vcenter1-27.html

Encyclopedia and Glossary of Water Terms - Water has always been important to humankind. All successful settlements got established near a ready source of clean water and many of those primitive settlements have become some of the largest cities in the world today. As civilization gets more complex, the knowledge needed to maintain a healthful water supply has gotten more complex, too. Everyone can take part in the effort to keep the planet's water supply clean and drinkable. Every effort counts. This encyclopedia of water terms may inspire some ideas. http://www.bedbathstore.com/englofwate.html
Rainbow Water Coalition - A non-partisan, neutral perspective supporting diversity in the color of water. A blog mostly about grey water. http://rainbowwatercoalition.blogspot.com/

H2O North Coast - Oregon Sea Grant Extension's Rob Emanuel serves the North Coast of Oregon from the offices of the Tillamook and Clatsop county Extension. He provides water- and watershed-related education, training, and technical assistance to citizens, property owners, businesses, community leaders, and organizations. He is the co-author of "The Guide to Oregon Rain Gardens." http://blogs.oregonstate.edu/h2onc/
Links from the Portland State University website:
http://waterontheweb.org/resources/glossary.html
Extensive information about aquatic studies
http://ga.water.usgs.gov/edu/dictionary.html
USGS Water Science for Schools glossary of terms
http://www.epa.gov/volunteer/lake/index.html
Volunteer lake monitoring protocol

site map
Copyright © 2003-2011 Preservation Association of Devils Lake (PADL).
All rights reserved.


P.O. Box 36
Lincoln City, OR 97367
PADLsteward@wcn.net