Fish
Rainbow Trout: Devils Lake is stocked annually with hatchery raised rainbow trout.
Coho Salmon: An amazing and unique migration from salt water to fresh water takes coho salmon from the Pacific Ocean, up the D River and Devils Lake tributaries to spawn. Possession of coho salmon from the lake is prohibited.
Grass Carp: Devils Lake was stocked with grass carp by the Devils Lake Water Improvement District as a method of controlling vegetation. Possession of Chinese Grass Carp (White Amur) is prohibited. Click here for Grass Carp information.
Other Fish: See below.

Devils Lake and its tributary Rock Creek provide habitat for coho salmon.
Hatchery raised Rainbow Trout are stocked annually by the Oregon Department of Fish and Wildlife (as many as 6,500 "planted" at a time). The adipose fin is removed in the hatchery raised rainbow trout. Be careful not to confuse the two fish.
• Devils Lake is managed to provide protection for wild coho salmon.
• Only finclipped hatchery trout may be kept. Trout missing the adipose fin may be kept. The adipose fin is the small fin on top next to the tail.
• Non-finclipped wild trout and salmon must be released unharmed.
Consult your current sport fishing regulation book. Look for information signs around the lake about fish that can legally be kept.
| | | |
| --- | --- | --- |
| | | |
| Coho Salmon | | Rainbow Trout |
Coho Salmon
Devils Lake and Rock Creek have a very important, small, wild coho salmon population listed as a threatened species. The state of Oregon is making a major effort to recover that species. The lake and creek have about 100 to 200 adult coho spawners each winter. Juveniles in Rock Creek in the summer number about 10,000, and the number in the lake is unknown. A smolt trap is placed at the mouth of the D River at certain times of the year to study their migration.

Uniquely this population spawns from Christmas to the end of January, the latest on the central and northern Oregon coast. Rock Creek has the highest coho density on the north coast, higher than 100 surveys that include Siletz, Nestucca, Tillamook, and Nehalem. Coho spawn in December or primarily January, juveniles emerge out of the ground about April, stay in the fresh water lake about one full year, then about the following April, May, or June go to the ocean. Some coho may stay in Devils Lake longer than a year.
The Rock Creek dam project to allow easier fish passage was completed in September 2006, and involved the Salmon Drift Creek Watershed Council, the City of Lincoln City, the Preservation Association of Devils Lake, the Devils Lake Water Improvement District, the Oregon Watershed Enhancement Board, the Oregon Department of Fish and Wildlife and the U.S. Fish and Wildlife Service. Agency staff and volunteers worked on all aspects of the dam modification project.
"The Migration Game"
The following information about salmon is from "The Migration Game," Alaska Sea Grant College Program, University of Alaska, and is used with their permission. For information about purchasing the game contact www.uaf.edu/seagrant. Or, the game can be purchased at the Hatfield Marine Science Center (HMSC) in Newport. Live finclipped, hatchery raised coho salmon can be seen swimming in an exhibit at the Oregon Coast Aquarium. Hatchery raised rainbow trout are also on exhibit. Both the Science Center and the Aquarium are located south of the Newport Yaquina Bay bridge in South Beach.
Salmon are great athletes
Some migrating salmon can jump over waterfalls more than 12 feet to get back to their home stream for spawning. Salmon in the ocean swim an average of 18 miles each day and sometimes go as far as 34 miles a day.
Salmon are quick change artists
The memory and smell centers in a salmon's brain grow rapidly just before it leaves its home stream for the sea. Scientists believe they are packing in memories of their stream's unique smell, which will help them find their way home when it's time to spawn.
When a salmon hatches, it is adapted for a life in fresh water. Its whole body goes through many changes during its migration to the sea so it can live in salt water.
Salmon are all bright silver in the sea. As they return to spawn, they may change to brown, bright red, green, or stripes.

Salmon have amazing senses
A salmon's sense of smell is almost 1,000 times better than a dog's. A salmon can detect one drop of water from its home stream mixed up in 250 gallons of seawater. Salmon will follow this faint scent trail back to their home stream to spawn.
The line along a salmon's side (called a lateral line) can detect even very small water currents. This helps them tell direction, find food, and avoid predators.
Salmon have 300 degree vision (although they do have many "blind" spots). That means they can see in all directions except directly behind them.
Salmon are important
Salmon are found in food chains in fresh water, in estuaries, and in the open ocean. They are an important food source for many animals, including humans.

Protect salmon and their habitat
• Don't drive trucks or 4-wheelers in streams.
• Find a place to recycle your batteries and aluminum cans.
• Use fewer pesticides and fertilizers on your lawn and garden.
• Take care to not spill fuel in streams and rivers and lakes. Tune up your boat, and car to make sure they don't leak oil or antifreeze.
• Don't toss garbage or trash in streams, rivers or lakes. Make a compost pile.
• Don't pour anything down storm drains in the street.
• Leave vegetation in place along stream and lake banks.
• Plant native trees and shrubs along stream and lake banks where they've been removed.
• Leave stumps, fallen trees, and boulders in streams for salmon habitat.

Credit for the above salmon information: the Alaska Sea Grant College Program, University of Alaska Fairbanks, and U.S. Fish and Wildlife Service, Fairbanks, Alaska. www.uaf.edu/seagrant


An interesting website about Wild Alaska Salmon - www.salmonpage.com

The Oregon Plan for Salmon and Watersheds
The Oregon Plan for Salmon and Watersheds represents an unprecedented undertaking on the part of the State of Oregon to restore our state's salmon and trout resources. Their goal is to restore populations and fisheries to productive and sustainable levels that will provide substantial environmental, cultural, and economic benefits. Visit www.oregon-plan.org/
Misc.
Native fish: Other native fish using Devils Lake include steelhead, and cutthroat trout.
1/07 - Rare Pink Salmon Found in Rock Creek, Lake Ecology plays role: A species of salmon not known to spawn in Oregon streams was found in Rock Creek, a tributary of Devils Lake. A Pink Salmon also known as a humpback was found on November 30th along the shores of the lower reach of Rock Creek by bio-surveyor Kip Wood. Wood and fellow biosurveyor Mark Stone work for the Lincoln Soil & Water Conservation District. They regularly survey Rock Creek along with numerous other creeks in the Mid-Coast Watershed.


Wood said that the Pinks are rarely seen in streams this far south, and that their general range reaches only as far as the Puget Sound. Adults are seen off the coast of Oregon, but only a stray would find its way into one of the coastal streams. Dr. Wayne Hoffman, Coordinator for the Mid Coast Watershed Council added that these fish like systems that lack an estuarine interface, meaning the fish are attracted directly to freshwater outputs into the sea, not tidally affected waters like the Siletz or Salmon Rivers. The D River, Devils Lake, and eventually Rock Creek provide just such a system favored by the fish. Water flowing out of the lake is almost always pure freshwater, which mimics the signal picked up on by the Pinks in their native spawning grounds.
The lake ecology also plays a role in the native Coho's success this year. Region wide Coho fish counts have been down said Wood, but not true for Rock Creek. Fish counts in all reaches and tributaries of Rock Creek for December totaled 253 Coho. Wood cautioned that as they survey the streams multiple times during the month, some of those fish might be counted more than once. However, compared to the Yaquina basin where three streams produced only 32 Coho and the South Fork of the Yachats which produced only 6 in two of its reaches, the Rock Creek returns are significant. The reasoning Wood believes is that Devils Lake provides exceptional rearing habitat for smolts. The lake ecology allows the fish the opportunity to grow and mature over fish flowing out of straight flush riverine systems like the Siletz. Salmon hitting the Pacific from a lake system might be twice the size of their riverine counterparts, providing a competitive advantage, an advantage that can show paybacks in years like 2006-2007. Wood continued to say that the Coho in Rock Creek were often 2 to 4 times the size of other Coho seen regionally. Fifteen pound lunkers were spotted as compared to the 4 to 7 pounders seen generally elsewhere. The Lincoln Soil & Water Conservation District meets at 7 pm every second Thursday of the month in their offices at 23 North Coast Highway in Newport.

Pacific lamprey: Long, snake-like fish with suckers at their mouth, the lamprey migrate into freshwater from the ocean, and they move from freshwater to the ocean. They are very cool.

History and Other Fish: Years ago there were black crappie, large mouth bass, bluegill, and yellow perch. Since the introduction of the grass carp there has been a significant decline of these species. Many of these fish need vegetation in the lake to hide from predators. In the past, Christmas trees have been placed in the lake to provide cover for small fish, especially bass. Permits are no longer issued for this activity. For information about grass carp refer to Restoration.

Devils Lake Fishing Tournament: Devils Lake is the site of an annual fishing tournament on Father's Day weekend. Check with the Visitor and Convention Bureau for information. In 2006, an Independence, Oregon man won $275 for catching a large mouth bass - 18.5 inches, and 3.9 pounds.

Lead fishing tackle: In Minnesota - The Minnesota Lakes Association (MLA) is partnering with the Minnesota Office of Environmental Assistance (OEA) and the Department of Natural Resources (DNR) to offer lead tackle exchanges at various events during the summer. This gives anglers a chance to trade in lead tackle for non-lead tackle. Devils Lake anglers are encouraged not to use lead tackle.
www.moea.state.mn.us/reduce/sinkers.cfm

Take Me Fishing website - www.takemefishing.org/state/page/overview/state/or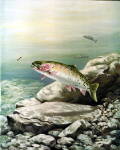 Photos: Coho Salmon (Timothy Knepp, USFWS), Rainbow Trout (Duane Raver, USFWS), Finclipped Trout (ODFW), Pink Salmon (OSU), Cutthroat Trout (Robert W Hines, USFWS)
site map

algae & microscopic | biodiversity | birds | invasive species | other animals | plants | home

Copyright © 2003-2011 Preservation Association of Devils Lake (PADL).
All rights reserved.


P.O. Box 36
Lincoln City, OR 97367
PADLsteward@wcn.net