Birds
Devils Lake with its surrounding forests, open spaces, wetlands, creeks and riparian shoreline provides habitat for a variety of birds. The Oregon Coast Birding Trail is now online at www.oregoncoastbirding.com. Several sites around Devils Lake include: D River Wayside, West Devils Lake State Park, Rock Creek Marsh (Seid Creek Open Space) and East Devils Lake State Park, and Spring Lake Open Space.

Around Devils Lake watch for:
Dabbling Ducks: American Coot, American Wigeon, Gadwall, Mallard, Wood Duck
Diving Ducks: Bufflehead, Canvasback, Ruddy Duck, Ring-necked Duck
Fish-Eating Birds: Cormorant, Pied-Billed Grebe, Western Grebe, Common Merganser.
Click here for a waterfowl list.

Hunting waterfowl on Devils Lake is prohibited.

The Great Blue Heron is one of the largest birds appearing around Devils Lake. Migrating Canada Geese rest on Devils Lake. Countless other birds such as the Egret, and Belted-Kingfisher can be seen. Swallows build nests under docks near the water.

Neotropical Migratory Birds: Populations that breed primarily north and winter primarily south of the Tropic of Cancer. Devils Lake is on the Pacific Flyway route. Migratory birds help keep the foliage eating insect population down. Insect eating birds and bats help reduce the need to use chemicals for insect control. Hummingbirds and barn swallows are neotropical.

International Migratory Bird Day is the second Saturday in May. The event website is at www.birdday.org. Their website store features great merchandise with a bird theme.

Range Bayer's Website & Lincoln City Bird Checklist
Range Bayer is the president of the Yaquina Birders and Naturalists. His website has historical records about birds and other natural history information from Lincoln County. A 1995 "Bird Check List for the Lincoln City Area" (Salmon River to Depoe Bay) with detectability codes is available online at http://yaquina.info/ybn/bird/m6.htm.
Lincoln City's Birding Guide brochure (2005?) includes Devils Lake - downloand pdf
Waterfowl
History: Devils Lake was known as one of the primary wintering areas for waterfowl along the Oregon Coast. The density of waterfowl was greater than any other wetland habitat on the Coast. After the Grass Carp removed most of the aquatic vegetation, Devils Lake was no longer a primary wetland habitat for migratory birds. For more information about Grass Carp see Restoration.

Waterfowl: Waterfowl utilize Devils lake for four to five months during the winter. Waterfowl generally arrive mid-October and stay until March or April. Peak abundance of waterfowl is generally around mid-December. Waterfowl population at Devils Lake is dominated by coots. However, substantial populations of widgeon, bufflehead, scaup, mallard and canvasback are also found on the lake.
The waterfowl utilizing Devils Lake have a very high dependence on submerged and emergent vegetation as a primary food source. Coots utilize pondweed for 25-50% of their diet, muskgrass for 10-25%, bullrush for 10-25%, alga for 5-10%, widgeongrass for 2-5%, and utilize cyperus, Eleocharis, naiads, coontail, duckweed, and burreed as occasional food sources.

Geese: Devils Lake has several large resident geese, Anser anser, a non-native species. DLWID had several geese removed from the lake.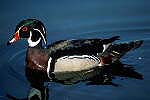 Al Rice's Statistics on Wood Ducks
Al Rice has spent countless volunteer hours helping the wood duck population of Devils Lake. One of the most beautiful of all ducks, they usually nest in trees. Al had Taft High School students build nest boxes with help from the Devils Lake Water Improvement District, and the Preservation Association of Devils Lake. About 40 nest boxes were placed around Devils Lake, and 4 at Spring Lake, a small lake that drains into Devils Lake. He tabulates their hatching success rate, and reports annually.
Wood Duck nest box results from around Devils Lake and Spring Lake:
Year
Total
boxes

boxes
with eggs

boxes
hatched

Total
eggs
laid

Total
Wood Duck
eggs hatched
boxes mother
abandoned - eggs lost
boxes
destroyed - eggs lost
Total
Hooded Merganser
eggs
hatched
1998
22
10
?
158
92
?
1999
24
15
9
192
97
6
3
2000
32
11
7
116
69
4
7
2001
32
14
8
97
76
6
19
2002
36
11
9
175
109
2
2003
39
12
9
180
102
3
2004
30
13
7
196
81
4
2
Totals
193
76
49
1124
626
25
40%
66%
56%
33%
In 2001 Al's wood ducks arrived on March 8, the same date as the previous year. In 2003 unfortunately, human vandals destroyed two nests resulting in the destruction of 14 incubating eggs. From 1999 to 2004, Al has tallied 848 wood duck eggs laid in nest boxes - 528 young have hatched. In 2004 Al successfully videotaped wood ducks in their nest box using a small, infrared camera. A 200-foot cord connected the camera in the nest box to a TV set. The hen usually lays an egg a day for 15 days. The eggs are incubated for 30 days. The young hatch within 3 hours, and within 24 hours the ducklings usually leave the nest to find food. A nestling has about 48 hours of nutrients left over from the egg.
Thanks to all the cooperating homeowners, with special thanks to Al Kramer and Steve Hoover for their assistance in hauling ladders and monitoring the boxes. The wood duck program is open to all, and anyone wishing to participate in providing suitable nesting habitat in this area and/or monitoring need only contact Al Rice. We know you will be happy with the results, and in realizing our whole community will benefit from maintaining and increasing the population of the most beautiful of all waterfowl; and finally, in finding just how lucky we are they choose to return to Devils Lake each year.
In 2008 - Al Rice reports that the WOOD DUCK Project at Devils Lake had its most successful year in 2008, with 127 hatchlings making it to the Lake. Since 1995, an average of 95 ducklings/year have jumped from an average of 30 nest boxes. In 2008, nearly 90% of the eggs successfully hatched, which is also a record high. They also got some interesting videos of action inside the nest boxes. Thanks to Al Rice and the other volunteers of this Project!
Wood Duck Nest Box
Video and Sound

Al Rice shows off the tiny camera he used to record video and sound from a wood duck nest box. The ducklings emerge from the eggs and leave the box within 24 hours. His amazing video shows the mother and ducklings inside the box and as they leave the box. The photo at right was taken at the August, 2004 PADL meeting.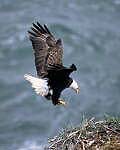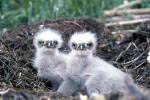 Al Rice's Report on Bald Eagles
An active bald eagle nest is located east of Devils Lake. Monitoring began in 1985. A pair of eagles use Devils Lake as a feeding site. The food sources of Devils Lake eagles includes large numbers of fish and waterfowl in the area. According to Al Rice the Bald Eagle nest on the lake is checked by helicopter.



| | | |
| --- | --- | --- |
| Year | Baby Eagles | Number since 1985 |
| 1999 | 2 | |
| 2000 | 2 | |
| 2003 | 2 | |
| 2004 | | |
| 2005 | | 21 |
Osprey
A pair of osprey also use the lake and can be seen fishing or perched at the south end of the lake by the island.

Waterfowl Watch History
In 1995 every Wednesday morning at 8:30 am, rain or wind notwithstanding, 22 dedicated PADL members counted waterfowl at designated spots around the lake. Those living on the lake know the conditions. For example, in fly-overs, U.S. Fish and Wildlife noted "no coots". On the same day PADL members counted 200 coots in the water. The counts stopped at the end of May with the departure of migratory birds. Indicator species included Bufflehead, Canada Goose, Canvasback, Coot, Cormorant, Mallard, Ring-necked, Ruddy, Scaup, Shoveler, and Widgeon.
Misc.
Keep domestic cats indoors. Cats can kill birds and wildlife. Indoor cats have a much longer life expectancy than outdoor cats. Keep your cat on a leash, outdoor enclosure or cat run outside. For more information www.abcbirds.org/cats/.
The Naturescaping book from the Oregon Department of Fish and Wildlife tells how to build bird nest boxes, and bat boxes.
Plants used as food by Devils Lake waterfowl: Pondweed (Potamogeton sp.), Muskgrass (Chara sp.), Bulrush (Scirpus sp.), Widgeongrass (Ruppia maritima), Cyperus (Cyperus sp.), Spikerush (Eleocharis sp.), Naiads (Najas sp.), Duckweed (Lemna sp.), Coontail (Ceratophyllum sp.), Burreed (Sparganium sp.), Watermilfoil (Myriophyllum sp.), Waterweed (Elodea sp.), Sedge (Carex sp.), Smartweed (Polygonum sp.), Marestail (Hippurts sp.), Cowlily (Nuphar sp.), Waterhemlock (Cicuta sp.) Following the introduction of the Grass Carp and the loss of these food sources, the number of waterfowl using the lake has decreased significantly.
Swans: In 1970, Devils Lake had several mute swans, even listed in the Audubon book. The swans came from Laurelhurst Park in Portland. PADL has consulted with the Oregon Department of Fish and Wildlife about possibilities of acquiring swans; however, swans are very territorial and aggressive in protecting their young. Native species like the tundra swan might be acquired from rehab programs. The other native swan, the trumpeter is a threatened species and is being reintroduced in some former native territory.

Partners In Flight / Compañeros en Vuelo / Partenaires d'Envol was launched in 1990 in response to growing concerns about declines in the populations of many land bird species, and in order to emphasize the conservation of birds not covered by existing conservation initiatives. The initial focus was on neotropical migrants, species that breed in the Nearctic (North America) and winter in the Neotropics (Central and South America), but the focus has spread to include most landbirds and other species requiring terrestrial habitats. The central premise of Partners In Flight (PIF) has been that the resources of public and private organizations in North and South America must be combined, coordinated, and increased in order to achieve success in conserving bird populations in this hemisphere. www.partnersinflight.org

An interesting website is http://geobirds.com/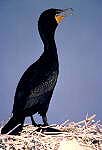 On 5/22/05 - interesting bird note from Phil Pickering of Yaquina Birders & Naturalists:
at the north side of D River in Lincoln City, PP conservatively estimated
about 1,500 CEDAR WAXWINGS with "many small flocks flying north, plus brief
but remarkable fallout at the tail end of a squall, with several large
flocks flying in from the east off the lake and dropping into the willows,
700-800 present at once."
12/29/06 - PADL found this on Oregon Birder's Online - Obol~
I briefly birded Devil's Lake from E. Devil's Lk Rd in Lincoln City for
wintering waterfowl. Normally there is not too much on the lake, but I
noticed several large 100+ rafts of LESSER SCAUP. Might be worth checking
for a Tufted Duck (I didn't have my scope).
Something odd that I noticed were all the grebes on the lake (WESTERN,
CLARK'S, HORNED, EARED & PIED-BILLED). I've only seen the occasional PB
Grebe and imagine that other species show up in migration, but there were 5
to 20 individuals of every species (except 1 Clark's Grebe) on the lake.
Good birding,
Russ Namitz
Coos Bay, OR

Photos:
Canvasback (William Vinge, USFWS), Hooded Merganser (drake) (Tim McCabe, USFWS), American Coot (USFWS), Canada Geese (Glen Smart, USFWS), Mallard (Erwin & Peggy Bauer, USFWS)
Wood Duck (Dave Menke, USFWS), Bald Eagle (Dave Menke, USFWS), Bald Eagle chicks (Dave Menke, USFWS), Double-crested Cormorant (Rodney Krey, USFWS)

site map

algae & microscopic | biodiversity | fish | invasive species | other animals | plants | home

Copyright © 2003-2011, Preservation Association of Devils Lake (PADL).
All rights reserved.


P.O. Box 36
Lincoln City, OR 97367
PADLsteward@wcn.net