Oregon Coast Birding Trail
www.oregonbirdingtrails.org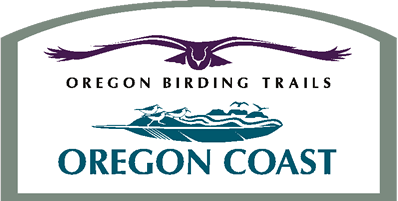 January 2007
The brochures are printed and available through the Oregon Coast Birding Trail website, and the Lincoln City Visitor and Convention Bureau.

Read the Oregon Coast Visitor Association's press release at www.visittheoregoncoast.com

October 2006
The website for the Oregon Coast Birding Trail is now online at www.oregoncoastbirding.com.
Devils Lake sites that made it into the program include:
1. D River State Wayside/D River Open Space,
2. West Devils Lake State Park,
3. East Devils Lake State Park/Rock Creek Marsh (Seid Creek Open Space),
4. Spring Lake Open Space (off NE 14th and West Devils Lake Road).
The main sponsors of the trail were the National Forest Foundation, the U.S. Fish and Wildlife Service, and the Oregon Coast Visitors Association.

PADL members worked to help pass the open space bond measure to preserve the Spring Lake Open Space addition, Seid Creek Open Space near Rock Creek and the D River Open Space. PADL has cleaned up trash off East Devils Lake Road near Seid and Rock Creek, and the D River Open Space. PADL donated $1,000 to the West Devils Lake State Park Interpretive Wetlands Trail.

Even though PADL members were the only Lincoln City non-profit organization members, aside from Betty Nicholson, that consistently took the time to attend the planning meetings (Lincoln City Spanish Head and Newport U.S. Fish and Wildlife), organizers really wanted to work with Audubon.
___________________________________________________________

January 26, 2007

This is an update on the status of the Oregon Coast Birding Trail. Please
share this update with others that may be interested in the trail. If you
have questions or comments about the Oregon Coast Birding Trail, direct
them to Dawn Grafe at dawn_grafe@fws.gov or Rebecah Morris at
Rmorris@VisitTheOregonCoast.com.
WEBSITE UPDATED
In October 2006 the website for the Oregon Coast Birding Trail was
launched. If you have not visited the site, please take a moment to check
it out at www.OregonCoastBirding.com. Thanks to all of you who provided
feedback on the website to make it better or to simply correct some of the
errors. The site has been updated and two sections, Sponsors and Planning
Your Visit, are still "under construction" but will be completed by January
31. To help spread the word, we encourage you to add a link to the Oregon
Coast Birding Trail on your website and if possible use either of the
attached trail logos. If you or someone you know would like to be listed as
a business under Planning Your Visit please contact Rebecah Morris at
RMorris@VisitTheOregonCoast.com about opportunities for online
advertisement.
SPONSORSHIP AND ADVERTISING
Once more a hearty thanks is due to each and every one of the sponsors and
advertisers that supported the Oregon Coast Birding Trail both financially
and through in-kind donations. Their support was critical to the completion
of the guide and the website. As you may know, the mission for the Birding
Trail is to bring together businesses, birders and conservationists to
maintain a healthy environment and a healthy tourism economy. Completing
the guide and website was a big step in fulfilling this mission and we are
all very excited to now bring birders to the coast for extended visits.
MARKETING
Look for an advertisement for the Oregon Coast Birding Trail in national
birding publications in the coming months. As our marketing campaign gets
underway next month, visitors will be encouraged to identify themselves as
birdwatchers to local business owners. In time these business owners
should begin to see that a growing proportion of their business comes from
wildlife enthusiasts. With this knowledge it will encourage coastal
communities to continue to protect open spaces and wildlands as habitat for
birds and other wildlife. Birders will also be strongly encouraged to
support the businesses that sponsored or advertised in the Oregon Coast
Birding Trail.
TRAIL DEDICATION
The Steering Committee encourages each community to announce or otherwise
plan a dedication ceremony to raise awareness of the trail within your
community. Contact us if you would like ideas on planning an event or
would like to check to see if a representative from the steering committee
can attend your event. Currently one dedication event is planned at
Yaquina Head Outstanding Natural Area in Lincoln County to coincide with
International Migratory Bird Day (www.birdday.org) on May 12, 2007. More
details will come as the event draws near. We hope to see some of you at
the celebration!
DISTRIBUTION
If you have not received a supply of the Oregon Coast Birding Trail to
place in your visitor center or business and would like a supply, please
contact the Oregon Coast Visitors Association (OCVA) at 888-628-2101 or
email them at info@VisitTheOregonCoast.com. When you contact OCVA, please
let them know the number of guides you need keeping in mind they can send
between 1 and 1,000 for the first mailing. If you are coming through
Newport and can pick up your boxes it would be greatly appreciated as it
saves the project on postage funds.
Thank you for your continued interest in the Oregon Coast Birding Trail. If
you prefer to not receive future updates please contact dawn_grafe@fws.gov
Dawn Grafe
Supervisory Park Ranger
US Fish and Wildlife Service
Oregon Coast National Wildlife Refuge Complex
2127 SE Marine Science Drive
Newport, OR 97365
–––––––––––––––––––––––––––––––––––––––––––––––––––––––––––
October 6, 2006
Happy Autumn, I hope all of you are enjoying the fall migration. From our
perspective the summer was extremely busy as the steering committee for the
Oregon Coast Birding Trail continued fundraising, and worked diligently
writing, editing, and finalizing the trail. I encourage you to read
through this update and direct any questions about the Oregon Coast Birding
Trail to Dawn Grafe at dawn_grafe@fws.gov or Rebecah Morris at
Rmorris@VisitTheOregonCoast.com.
WEBSITE LAUNCHED!
We are more than pleased to announce the website for the trail is now
online. Visit it at www.OregonCoastBirding.com and pass along the URL for
the site to all of your birding friends. As many of you will recall, the
original plan called for publishing the guide first followed by development
of a website. However, with the popularity of the internet, ease of
accessibility, and low cost the steering committee decided to first publish
the website. This also allows us to correct any mistakes before the full
color glossy brochure is printed in November 2006 and then sent out for
distribution. The site is a series of PDF files which are easy to download
in sections. You will need Adobe Acrobat Reader to view the files
(www.adobe.com). Comments on the content of the website are welcome and
encouraged, but do keep in mind that the site is still a work in progress
and changes will be made regularly to improve the site and include
additional information. One of the sections we will be working on is hot
linking the sponsor page and adding sponsor logos. We would also encourage
you add a link from your website to the www.OregonCoastBirding.com website.
We hope you will agree that In House Graphics in Salem, Oregon did
an outstanding job on the layout and design.
SPONSORSHIP AND ADVERTISING
Thank you to all of the sponsors and advertisers that came on board to
support nature based tourism on the Oregon coast. This project could NOT
have happened without them. Financial support for the guide came from local
communities along the Oregon coast and was a very important part of
development of the trail. The guide itself encourages visiting birders to
patronize the businesses and visitor centers that sponsored sites or
advertised in the trail guide as these groups are working together to make
tourism sustainable along the entire Oregon coast.
PHOTOGRAPHS SOLICITED
We think you will agree that the guide is an attractive publication in
addition to a practical one. This is due in large part to the myriad of
beautiful images that brighten the pages. All images in the guide were
donated by wildlife photographers from Oregon. The steering committee for
the trail would like to express our thanks to the generosity of each and
every one of these photographers many of whom make their living from
photography or enjoy it as a hobby. As you scan the guide, you will notice
images showing common birds as well as uncommon ones. We hope the guide
piques the interest of birders from around the world and images often do
the best job of speaking to the experience a birder will have on the coast.
MARKETING
After the guide is published later in the year, the steering committee will
initiate a marketing plan to reach birders throughout Oregon, the United
States and beyond. The Oregon Coast Visitors Association and Travel Oregon
will team up to advertise the Oregon Coast Birding Trail in leading Bird
oriented publications. In addition, we will be working on getting the
trail advertised on birding websites including the American Birding
Association, National Audubon Society, Travel Oregon and more.
Thank you for your continued interest in this project, you can expect one
more update to arrive later this year when the guide is ready for full
publication. In the meantime, we look forward to receiving your comments
on the website within the next two weeks.
Dawn Grafe,
U.S. Fish and Wildlife

January 20, 2006 - Trail Dedication tentatively scheduled for fall 2006
Dawn Grafe from the U.S. Fish and Wildlife Service, along with representatives from Oregon Parks and Recreation, and the U.S. Forest Service attended the meeting. Rebecah Morris, Executive Director, Oregon Coast Visitors Association is now handling contributions to this project. Thanks to a generous grant from the National Forest Foundation (NFF) donations will be matched up to $55,000. Government agencies will evaluate birding sites they own. The other sites will be evaluated by local citizens.

From Steve Shunk, January 3, 2006
NOTE THAT A CITY IN CALIFORNIA DONATED $10,000!
Greetings all,
With the new year, we are happy to share four pieces of exciting news about
the Oregon Coast Birding Trail project.
NEWS 1: $28,000 RAISED TO DATE
We want to extend our greatest appreciation to those agencies and
organizations who have already sent in cash sponsorship funding for the
project. Please patronize these organizations and communities and thank them
for their support of birding tourism:
- Del Norte County, California (yes, that's right, California!) -
http://www.northerncalifornia.net/ : $10,000
- Oregon Coast Visitors Association - http://www.visittheoregoncoast.com/ :
$5,000
- Oregon Department of Land Conservation and Development: $5,000
- Oregon Parks and Recreation Department: $5,000
- Convention and Visitors Association of Lane County -
http://www.visitlanecounty.org/ : $1,000
- Inn at Spanish Head - http://www.spanishhead.com/ : $1,000
- WildSpring Guest Habitat (Pt. Orford) - http://www.wildspring.com/ :
$1,000
NEWS 2: SITE NOMINATIONS A SUCCESS
We closed the site nominations process at the end of October with a whopping
220+ sites offered up for inclusion in the project. Thanks to all of you who
nominated your favorite birding spots, we will have a trail jam-packed with
outstanding birding.
We are still shooting for our May dedication ceremony, so our time is short.
We will need your help with the site review process over the coming months.
If you are interested in helping us review the nominated sites, please
contact me as soon as possible. We will schedule some sort of orientation
(likely on-line) later this month to teach you about the selection criteria
and how to look at these sites from a tourist's-eye-view.
NEWS 3: NEW FISCAL SPONSOR
After June 2005, Audubon Society of Portland was no longer able to serve as
fiscal sponsor for the project. We struggled the remainder of the year
trying to recruit a new long-term fiscal sponsor. In mid-December, the
Oregon Coast Visitors Association board of directors voted in favor of OCVA
becoming the new "home" for the Oregon Coast Birding Trail.
Special thanks to Rebecah Morris, executive director of OCVA, for her
patience and support in pushing this decision through its process, and
thanks to the OCVA board for having the vision to lead the project into the
future. We are confident that OCVA is the best possible organization to take
the reins.
NEWS 2: BIG GRANT AWARDED
Since we did not have a fiscal sponsor the last six months of the year, it
was difficult to fundraise. We had our eye on some grant prospects, but we
needed an organization to step-up as an applicant. Enter the Friends at
Haystack Rock. Thanks to their willingness to also take a leadership role in
the project, we secured a $55,000 grant from the National Forest Foundation
at the end of December.
The NFF grant requires non-federal cash match in order for any funds to be
released. That is, we only get the $55,000 if we raise another $55,000.
Since we want the Trail Guide printed in time for International Migratory
Bird Day in May, we only have a few months to raise the matching funds.
Those of you who wish to take advantage of this incredible opportunity to
promote your businesses or communities need to get on board fast. We have a
brand new sponsorship sheet that we can send you that covers all the
details, and we have the capability to make presentations to your groups if
requested.
If we have talked with you about sponsorship in the past, please check in to
let us know if you still intend to become a sponsor or advertiser. If we
don't hear from you first, you can count on hearing from us in the next few
weeks.
FINAL NOTES
Thanks to Audubon Society of Portland for carrying us through the first 12
months of the project. We know all about competing priorities and we are
grateful for their early support.
A final major thanks goes to the US Fish and Wildlife Service (Coastal
Refuge Complex), and especially Dawn Grafe, for helping to keep the engine
running through our first 18 months of project development. Thanks also to
her superiors, Roy Lowe and Rebecca Chuck, for making the birding trail part
of Dawn's already packed agenda.
More updates will be forthcoming over the next couple months. If you know
someone who might like to be on this mailing list, please send me their
email address and we'll get them on board. Get out and enjoy the SNOWY OWLS
at the coast, and we'll talk to you soon!
Steve Shunk
OCBT Facilitator
--
Stephen Shunk
Community Solutions
Sisters, Oregon
" Creative solutions for small businesses and rural communities"
541-549-8826 (home)
541-408-1753 (cell)
541-549-8937 (fax)


From Steve Shunk, June, 2005
We do not want to post the list of nominated sites for a number of
reasons. Most of all, we place a high value on sites that receive
multiple nominations, something that would not likely occur if potential
nominators saw that their favorite birding site was already nominated.
Become involved - nominate your favorite coastal birding spots through October 1, 2005 - www.oregonbirdingtrails.org
The Deadline to become involved has been extended until October 1, 2005

Tuesday, May 3, 2005
PADL members Susie Fischer, John Lazier, Chester Noreikis and Raylene Erickson attended a meeting at the Inn at Spanish Head in Lincoln City, Oregon. Organizers of an innovative coastal tourism project invited community members to attend one of eight public meetings scheduled during the first two weeks of May, 2005, featuring the Oregon Coast Birding Trail as a unique association between conservation and economic development. The second of up to nine birding trails statewide, the Oregon Coast Birding Trail will be a 350-mile, self-guided driving tour running the entire length of the Oregon coastline. The "trail" will link up to 150 current birding and wildlife viewing sites along existing highways and byways to feature the diversity of birds, birding opportunities, and scenic wonders throughout the region. The meeting included a presentation by community development consultant, Stephen Shunk, one of the founders of Oregon's birding trail system. Project organizers also presented a wide variety of opportunities for community participation.
The Oregon Birding Trails project follows a trend now evident in more than two dozen states across the country. By appealing to the rapidly growing constituency of recreational birdwatchers and nature enthusiasts, birding trails have become a valuable conservation and economic development tool for local communities. A 2001 survey by the U.S. Fish and Wildlife Service found that 46 million Americans consider themselves birding enthusiasts, and nearly 6 million of these birders travel outside their home state specifically to watch birds.
Shunk believes that public involvement is a key element of the project's success. "We want traveling birders to visit the Oregon Coast, and we want to help coastal communities optimize the benefits of birding tourism," Shunk explained. "When birders visit the trail, they will rent cars, sleep in motels, and eat at local restaurants. They will also purchase souvenirs that will later remind them of their outstanding birding experience in Oregon. The more involved communities become in the project, the more they will reap the potential economic benefits from birders visiting their towns. The site nomination process represents just one opportunity to make this happen."
Birding trail sponsors invite the public to nominate their favorite coastal birding spots through August 1, 2005. Individuals may nominate sites through the project website at www.oregonbirdingtrails.org, or they may request a nomination form at 541-867-4550. Each of Oregon's birding trails features a distinct geographical region of the state's diverse landscape. Bob Altman of the American Bird Conservancy, one of the project's statewide sponsors, sees this system of trails as an important catalyst for protecting Oregon's birds and their habitats. "Once Oregon communities realize the untapped economic value of their avian inhabitants, we hope they will be inspired to protect sensitive natural areas," Altman said. "If the habitats are not protected, the birds will go elsewhere and so will the birders."
The Oregon Coast Birding Trail will be funded by contributions from federal, state, and local agencies, as well as a host of businesses and non-profit organizations. Organizers need the public's support to help raise over $200,000 before the trail dedication on International Migratory Bird Day, May 13, 2006. Sponsorship and promotional packages are available at many levels. For more information on sponsorship opportunities, upcoming public meetings, or other involvement in the Oregon Coast Birding Trail, contact Stephen Shunk at 541-408-1753.

• Coast Birding Trail received $55,000 matching grant, donate if you can. Bird photos for the brochure can be submitted to the working group. No money will be paid, but photographers will be credited. read story
Copyright © 2003-2011 Preservation Association of Devils Lake (PADL).
All rights reserved.


P.O. Box 36
Lincoln City, OR 97367
PADLsteward@wcn.net