Maps of Devils Lake: Home
Lincoln City's Geographic Information System (GIS) online. (Public Works' GIS Coordinator Michael Bishopp) http://lincolncity.org/Departments/PublicWorks/GIS
1. Street map (this page)
2. Google maps - www.google.com/maps
The link is to Devils Lake State Park. Click on To here. Google maps include three viewing options: Map, Satellite and Hybrid (combination of the two) The map can be moved around by holding down the mouse key and moving to the desired location. Zoom in with shift key + or zoon out with shift -.
If a dialogue box covers the map, click the small box with an x in the upper right corner to delete the box. You can also zoom in or out using the tracks to the left of the map.
3. Bathymetry (Depth) map - March, 1994. In 2004, MaxDepth Aquatics, Inc. updated the map for DLWID (994-5330)
4. Tsunami map - download pdf
5. www.co.lincoln.or.us - Lincoln County assessor has maps online
6. www.nationalgeographic.org - National Geographic has several maps of the lake online. Type in Lincoln City's zip code 97367 on the maps page. - Their TOPO software program of seamless USGS Topographic Maps on CD-ROM is worth looking into if you like maps.
7. Devils Lake Watershed - download pdf - Mid-Coast Watershed Council map
8. http://geonames.usgs.gov/pls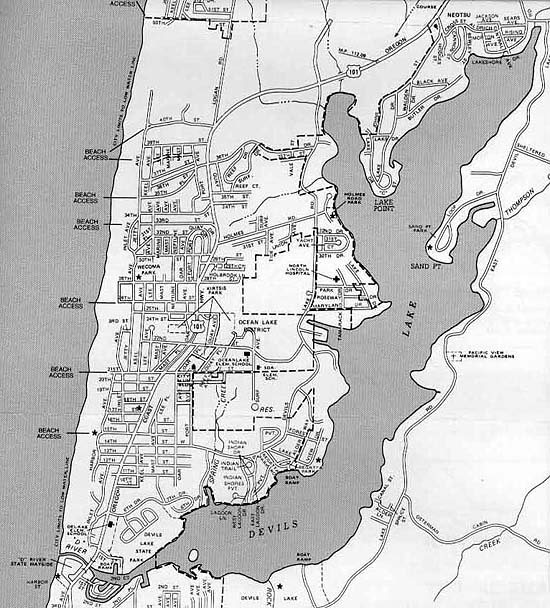 Map of Devils Lake streets used with permission from the Lincoln City Visitor and Convention Bureau.

Copyright © 2003-2011 Preservation Association of Devils Lake (PADL).
All rights reserved.


P.O. Box 36
Lincoln City, OR 97367
PADLsteward@wcn.net