Kayaking Devils Lake

––––––––––––––––––––––––––––––––––––––––––––
2006 Kayak Event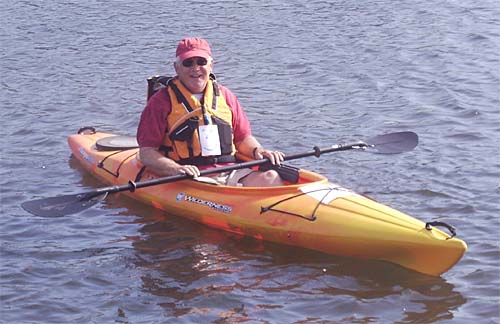 Mr. Silen from Depoe Bay - winner of the Devils Lake Kayak Mini-Regatta on August 26. The event was a fundraiser for a watercraft wash station on Devils Lake - one tool to prevent the spread of invasive species. See below for thank yous. read News Times story
Devils Lake Kayak Mini-Regatta
Watercraft Wash Station Fundraiser
Saturday, August 26, 2006 - Union 50 Club
After the Event:
Devils Lake Kayak Mini-Regatta went swimmingly well. Two participants fell in the lake - one before the event even started trying to rescue a towel that the wind blew into the lake. The fog just cleared in time for the 10am event. Racers received whistles in case the fog rolled back in. Mr. Silen won first prize of a decorated oar. Second and third place finishers won nautical wall hangings. Thanks to Nancy and Bob McKnight for allowing PADL to use their 5 kayaks, Diane and Jim Kusz for the safety boat, artist Frank Aicher for the T-shirt design (the kayaking dog with a lifejacket is just too cute), Imprints, Chris Christensen at Trillium Natural Foods for donating root beer, Barton Howe at the News Times, Dave and Niki Price at Oregon Coast Today, the News Guard, Judy Cleveland for timing the race, Smokey Aschenbrenner, Union 50 Club, and Paul Robertson for emceeing and judging along with the PADL chair. Thank you to participants and donors. PADL Chair Susie Fischer

Before the Event:
The Preservation Association of Devils Lake invites the public to a Kayak Mini-Regatta on Saturday, August 26 at the Union 50 Club (1115 SE 1st, turn east at the D River traffic signal, blue building) The event will start at 10:00 a.m. and go to about noon. Donations appreciated.

PADL members Bob and Nancy McKnight have generously provided the use of their 5 kayaks. Others with kayaks (especially from around the lake) are encouraged to bring them. Come try kayaking. Meet other kayakers.
The event will be a fundraiser for a watercraft wash station on Devils Lake. The station is one tool to prevent the spread of invasive species and raise awareness. There will be information about invasive species at the event.
Paul Robertson has a kayak and will help emcee with Susie Fischer. This is not a Devils Lake Water Improvement District (DLWID) event. At present DLWID has priorities that include the grass carp. In the future, if PADL is successful at fundraising it is hoped that DLWID will have time to help with the watercraft wash stations.
Participants must sign a waiver.
Non-kayakers are invited to watch from the Union 50 Club and the D River Open Space.

The Union 50 Club will have displays about invasive species. Root beer floats will be sold.
T- Shirts by local artist Frank Aicher: A limited number of event T-shirts by local artist Frank Aicher will be sold. He has 3 kayaks. He kayaks with his 70 pound dog and drew a dog in the kayak wearing a lifejacket. $10 each.
Prizes include a decorated oar and two nautical wall hangings.
Susie Fischer, PADL chair 994-6178.

Kayak photo by Paul Robertson